Hello, New Friend ...
First, thank you for your time! My hope is that after spending a few minutes here with me you will feel cared for, understood, and if you're in the midst of a storm, you will know you are not alone! 
As a certified career & life coach, award-winning author & international podcast host, I help women, just like you, powerfully navigate life-altering changes in their lives by helping them discover (or re-discover) their core values and their self-worth. 
Time is precious. It's the only commodity that never returns to us. So, let's spend a moment to explore if we have something here that can be of real value in your life…
How are you feeling:
Uncertain. Powerless. Stressed. Fearful. Shut-down. Disconnected. Empty. Exhausted. Hopeless?
Has life thrown you a curve-ball?
Divorce. Caregiving. Burnout. Retirement. Loss of a loved one. Career change … Global pandemic (I think we can all relate here).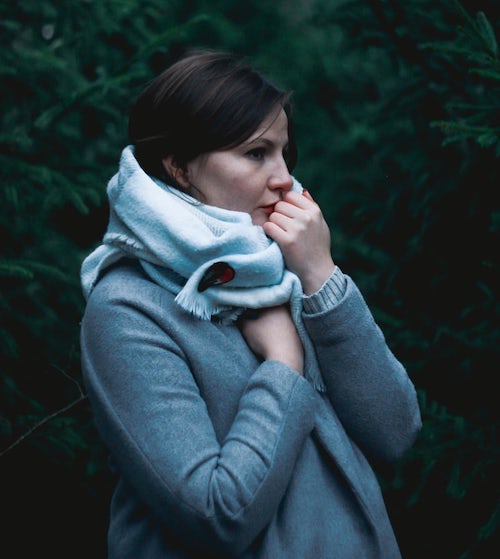 Clients have shared how they've felt when we met. Can you relate?
"The empty nest is a funny thing. I should be happy about this, right? Time to myself and all. But, I don't know who I am anymore. I can't seem to get my head above water since my kids moved away. I feel stuck. I'm looking back over the last several years of my life and all I did was work (too much), take care of my kids, pay the bills, and do it all over again; I don't even know what fun is anymore. Who am I now?"
"I'm lost! I'm in uncharted territory! I'm not sure what to do. I really want to change, grow, and heal from my divorce but I am not sure how to do that!"
"All I know is, I've been stuck here for too long! I'm sick and tired of being sick and tired. I know if I don't do something soon, I will lose everything and everyone I care about."
"I don't know how to do it by myself. I haven't lost a job in 20 years, how do I do this? What do I do? I want to feel stronger. And I don't ever want to feel this way or be this same person again."
If you can relate…please stay with me. We're about to show you how being resilient will turn things around.
See, I've been where you are. Several times, in fact! 
I've had my share of experiences with life-shattering events that threatened to change my life profoundly. 
Finding my way through and beyond them — by making choices that serve me — and learning that we are not meant to do this hard life-stuff alone, inspired me to help other women do it better than I did at first.
Which is why I've been helping women with guidance, support, and actionable resources for the last 20 years. I help them turn their world right side up again in the aftermath of life-changing events..
My friend, I don't want you to feel like you're just surviving the storms of life ~ my hope is to see you thriving in spite of them!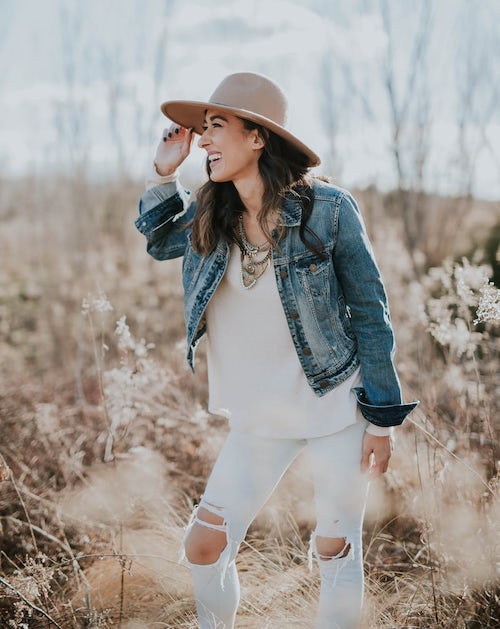 I've had the distinct privilege, through my video podcast, to share the stories of empowering women who are shining examples that it IS possible to transition and thrive. 
And I'm here to tell you, they are JUST LIKE YOU!
Like you, they were blindsided by circumstances, such as: 
Cancer
Betrayal
Suicide
Job loss
Cross-country moves
Sick children
And so many more… 
And they all have one thing in common: they all felt stuck and trapped; like they'd lost themselves. 
They looked around at the chaos and asked, "How did I get here?" 
They all felt like a shadow of their former selves. 
Their entire sense of foundation and stability were shaken, often in an instant.
Can you ever be "prepared" for the unexpected? 
How do you build an internal foundation that can withstand the storms?
When I began my coaching journey, I journaled how I wanted my clients to feel after working with me…
She will know who she is. She will feel grounded once again in her core values so decisions are easier for her to make. 
She will feel empowered to be her authentic self; without fear of what others think. 
She will have a clear vision of where she is headed and how she can get there. 
And lastly, she will have the tools she needs to be as prepared as she possibly can be for future curveballs life might throw her way. She will have the resilience she needs to bounce back stronger than ever.
I want all of that and more for you!
Are you ready to thrive through tough times?
It's time for you to clearly see the light on the other side of your storm. 
Say "YES" to new confidence.
Say "YES" to new possibilities.
Say "YES" to turning your upside-down world right side up again!
Discover who and where you are today, so you can finally bloom where you're planted!
About the 5 Petals of Power Program: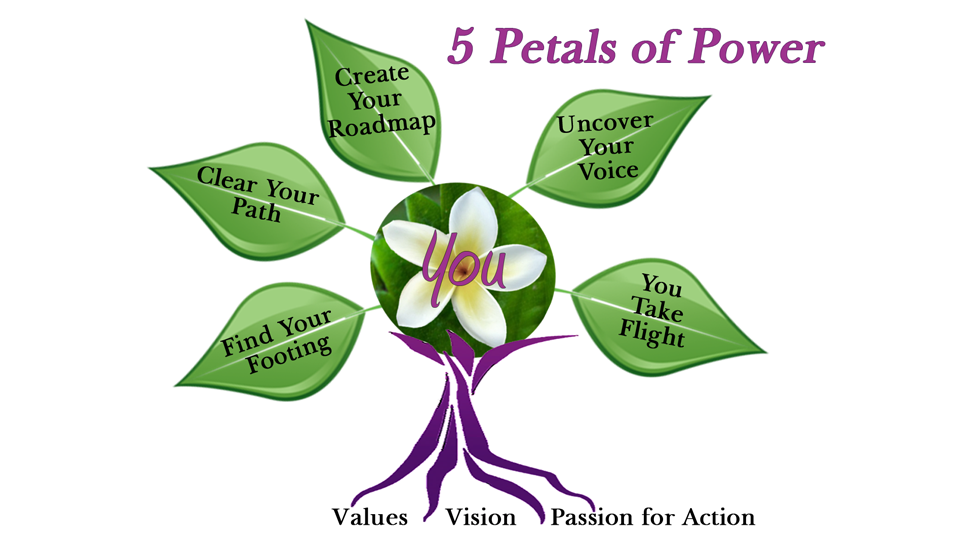 The 5 Petals of Power Program is designed to help you get into action and keep you moving in the right direction for your life. There are tools and strategies at each stage that you can adapt to your unique circumstances. It combines the mental, emotional, and actionable energy you need to transition out of the place you are and into a thriving life. When you put them into your own treasure chest, you can access them at any time in the future. 
These tested techniques have helped many women put the pieces of their lives and careers back together again in a new way.
What I know for sure is that life events will continue to happen. When you learn how to handle these events in ways that feel right, you will be prepared for anything life throws at you in the future. It's how you step into your power again.
I am confident this program will help you grow—from the inside out. And because I love choices, there are four different ways for you to engage with my 5 Petals of Power program. 
You can choose to dip your toe in the water to test it out or you can jump right in to my full signature experience.
Choose from one of these course options:
EXAMPLE
Looking for even more 1:1 support?
Let's talk about the full 20-week signature program experience that includes weekly private sessions, direct email access, and access to our private Facebook Group community. Email maria [[email protected] for more details.
If you need more encouragement, keep reading.
Let's try another self-assessment (we will do this a lot when we work together — self-awareness is the key to growth)

Are your shelves lined with personal development books you've read but you don't know how to implement what you've learned?
Do you need to get out of your head so you can listen to your heart and get out of your own way?
Could you benefit from an accountability partner? Someone to lead and teach you; someone to help lighten the burdens you're carrying?
I promise you, there's a thriving life beyond your tough times waiting for you!
And I can say that with full confidence, because I've been where you are…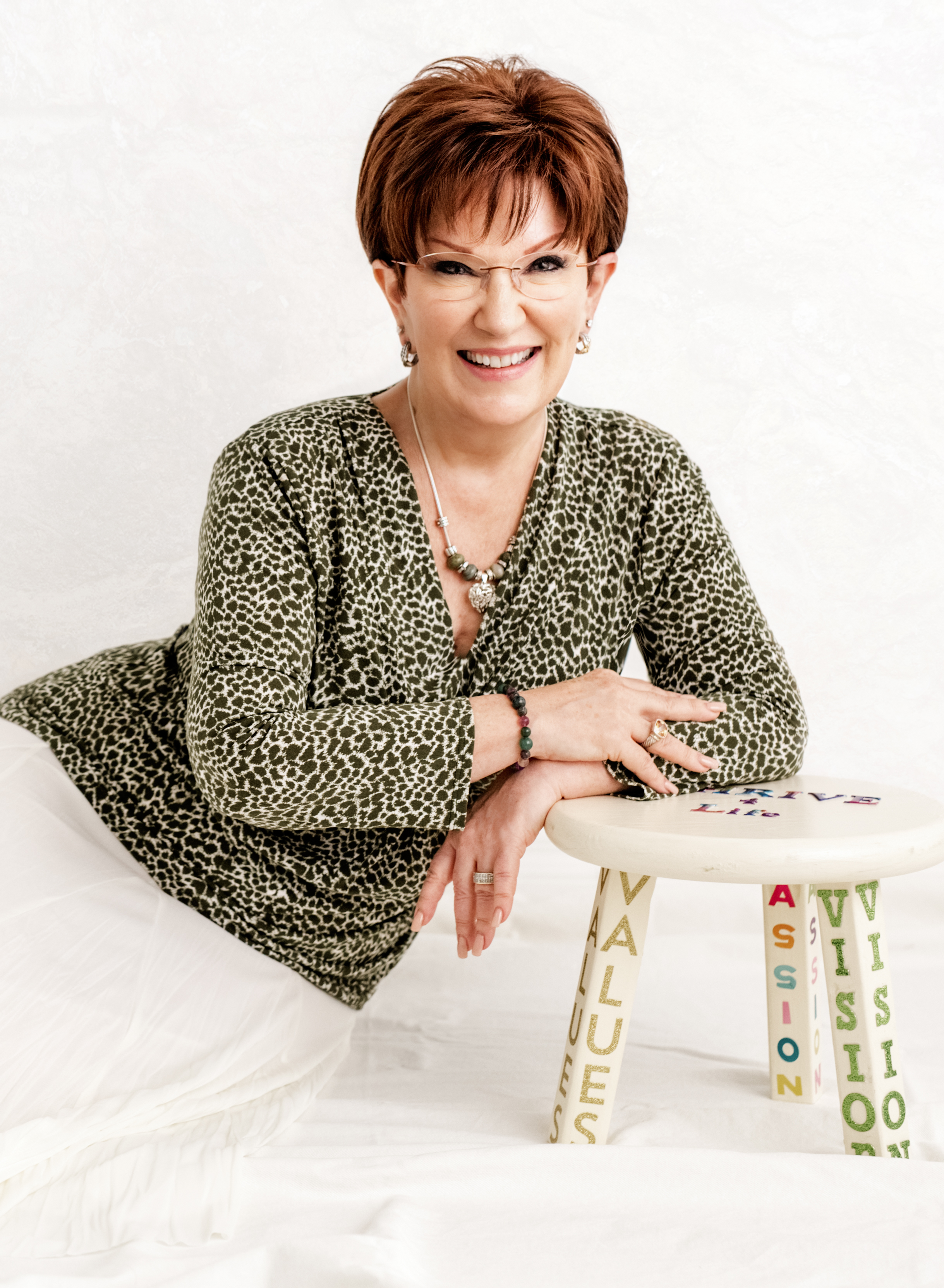 Allow me to share my story...
I lived through major shifts in my life, over and over again, and became hardened to how I was feeling. They piled up one after the other. I was numb.
Until something finally broke within me and I couldn't summon the resiliency to keep plowing through. 
I hit rock-bottom; I had no choice but to reach for help. 
It was my turning point.
After being derailed, there are times when everyone needs a trusted hand to find the way back. 
The woman who reached out her hand to me saved my life. She paid it forward, and now I'm doing the same.. 
I'm inspired to help other women thrive because I am proof that it is possible.
I love to teach women how to move from panicked to powerful, and from rocky to resilient.
As a certified career & life coach, award-winning author & international podcast host, I help women, just like you, powerfully navigate life-altering changes in their lives by helping them discover (or re-discover) their core values and their self-worth.
My courses encourage women like you to give themselves permission to rediscover who they are now, after an event has abruptly changed their life.
After working with me, my clients and students get to take off the mask they hide behind and start creating a vibrant life that supports them where they are today and where they want to go.
Together, we will create an environment that allows you to step back into your life fully, with more clarity and confidence.
Through these programs, you'll learn the power of being resilient while putting tools in your treasure chest which will keep you from getting derailed ever again because you'll be prepared to handle it.
Here's what some of my clients have shared AFTER they have been through the 5 Petals of Power Program: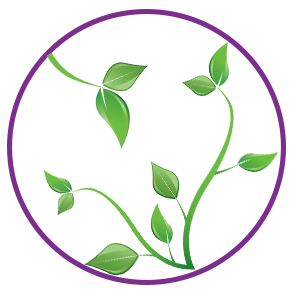 "I now have greater insight into myself to redefine my goals ... and created tangible steps to achieve them."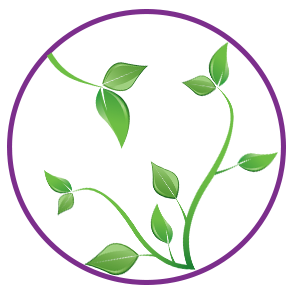 "María is a warm, skilled and compassionate coach. Having been through many transitions herself, she can identify with her clients and brings a perspective based on her personal experience."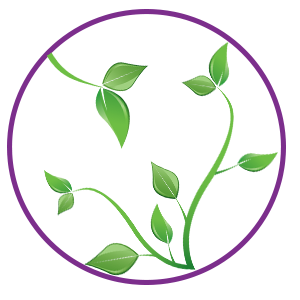 "María offers a course of action for getting us unstuck from life's challenges."
How would your life change if you felt: 
Certain! Powerful! In control! Brave! Open to possibilities!
Meaningfully connected! Cup overflowing! Energized! Hopeful!
Isn't this how you'd love to show up in the world? Stop listening to the "should haves" and (even if only for a moment) hear the "what ifs."
It's time to change your focus away from the tough times you're in…
to nurture yourself with kindness …
and to renew your spirit.
Choose from one of these course options below:
EXAMPLE